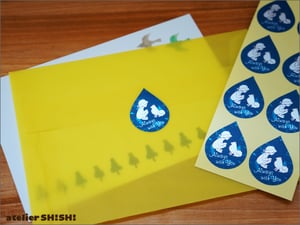 $

3.70
Drop-shaped seal with an alluring illustration of girl and dog.
The sparkle of seal changes if looked at from different angles.
It is water resistance.
Envelope and letter paper are not included in goods.
Designed by atelier ShiShi.
x10 seals (25 x 32 mm)
Stock quantity: 0
We will send our goods as a small packet airmail.
A portion of the proceeds will be donated to animal rescue efforts.